Vehicle-mounted gps scrambler
Vehicle-mounted gps scrambler jammer
Vehicle tracking refers to the GPS tracking device installed in the hidden place of the vehicle, and the tracking device can be tracked by GPS satellite positioning signals. Vehicle tracking is often seen in movies and television shows, not only by police officers tracking criminal gangs, but also by criminals using them to track targets.Always let us in jeopardy, tracking the tracking needs to be done the first step is to locate the source of the trace, for satellite tracking, the satellite signal scrambler makes you outside the tracking signal.

Vehicle tracking is not just a TV show, it's ubiquitous in real life, maybe it didn't happen to you. But it doesn't mean it doesn't exist, or it doesn't mean you can't be tracked. In the face of GPS tracking and other satellite signal tracking, the use of vehicle GPS scrambler is the best choice.This kind of equipment has all the conditions that outdoor use, in which the portability and the interference radius is the most important characteristic. It is used by many people to prevent GPS satellite tracking, especially those important people, who may be targeted by criminals.

Global satellite system has wide application in every fields, not just on the vehicle and tracking, to solve the vehicle tracking problem is very simple, only need to buy a portable GPS jammer. With this kind of equipment, you don't have to worry about the whereabouts of your vehicles or your personal information stolen by the criminals.On the anti satellite tracking, jammer is a tool for people to use the most, while for vehicle tracking, GPS scrambler is professional, professional device can make you safe, no matter where you go.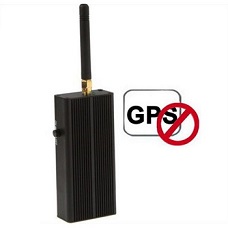 This is a scrambler only an antenna of GPS jamming device, it blocked the GPS satellite signal L1, handheld antenna design and makes it less easy to conceal and carry, can be used as car dedicated tracks protection tools, can also be used for other outdoor prevent tracking, disturbance radius of up to 15 meters, the interference is enough you are in a safe area, outside the satellite positioning signals, and tracking.
$53.69
$108.99