Cell Phone Signal Jammer DIY For 3G 4G 5G
Mobile phones are now widely used, common mobile frequencies include GSM, CDMA, DCS , PCS, 3G, 4G. Mobile communication frequencies allow people to communicate with each other easily. But it also brings a series of problems, such as mobile phone harassment, mobile phone ringtones and mobile phone security problems, are everywhere. In this case, 4G LTE jammers can help solve many problems.
Some one can eavesdrop your conversations by intercepting your phone signal blocker.And they can also track you through signal tower triangulation. This classification of jammers is powerful that jamming GSM 3G 4G frequency, also jamming GPS or WiFi. We provide many jammers, the multiple frequency portable jammer adjustable designed more popular.If you need to protect your location privacy or anti tracking, you can buy the devices against tracking from GPS jammer category.
This portable signal jammer device jamming multiple signals such as GSM/3G/4G LTE,WiFi,GPS/LoJack tracking signal. Handheld wireless jammer disturbance radius up 30 meters.

$316.69

$565.89
Portable 2G 3G 4G signal jammer can also interfere with wifi 2.4G/5.8G, GPS/lojack band, with a interference radius of about 20 meters.

$483.29

$894.98
Portable mobile signal jammer block GSM 3G 4G GPS WiFI.Handheld design convenient for your outdoor jamming.The maximum jamming radius up 20 meters. It perhaps the most popular mobile jamming device in the world.

$309.99

$739.99
6 bands desktop high power jammer with three jamming combination GSM+3G+4G, GSM+3G+GPS+WiFi, GSM+3G+UHF+VHF for you to choose.According to the signal intensity in a given area block radius can be up to 50 meters.It may be the most popular desktop blocker in the office or home.

$418.49

$946.89
The handheld signal blocker can jam GSM GPS 3G signal at the same time. Car charger provide for you convenient use anywhere in the vehicle.Up 15 meters radius is enough to keep your privacy safe.

This portable signal jammer is very popular nowadays. Jamming with GSM 3G , GPS, WiFi . It has the characteristics of light weight and small volume. Interfere radius up 15 meters.

This gsm signal blocker interfere with GSM 3G GPS WiFi 315 433 868 depends on your needs, small and portable features. Maximum jamming radius of 15 meters,car charger is standard.

Handheld cell phone jammer can block GSM 3G mobile cellular signal, remote control frequency 433MHz 315MHz 868MHz , WiFi and GPS.The black shell and portable design make it easy to hidden and use.The maximum jamming distance up 15 meters,best tool for you to protect privacy.

$169.99

$319.69
5 antennas signal jammer is the most popular portable small jammer. It blocks almost all phone frequencies. It jamming bluetooth, WIFI, GPS and wireless video signals.Jamming radius up 20m.

Handheld cell phone jammer jamming GSM 3G 4G WIFI bluetooth GPS(L1 - L5) and wireless video. Jamming radius up to 20 meters,it's one of the most powerful portable jammer in the jammer store.

$233.89

$339.99
The ultra powerful waterproof phone signal jammers jamming range wide, radius up to 100 meters, can be hung on the wall, specially designed for big occasions, in schools, prisons, courts, factories and other places have a wide range of applications.

$2375.99

$2998.99
The signal jammer has a wide range of jamming frequencies, can block many phone signal as CDMA GSM DCS 3G 4G LTE 4G Wimax. The GPS or WiFi blocked depend on your choice. Easy carry and hidden,can be carried on the arm,jamming radius up 20 meters.

$415.89

$680.99
The wireless jammer can jamming CDMA GSM DCS PHS 3G 4G WIFI frequencies. With a good cooling system, the interference radius is adjustable up to 40 meters.

This desktop adjustable phone blockers has delicate shapes with 5 bands suitable for office,home. Jamming 3G 4G CDMA GSM DCS PHS WIFI. With good heat dissipation system can ensure work for a long time.

$420.89

$859.67
This is the first 5G signal jammer in all signal jammer stores. The signal jamming frequency includes GSM CDMA 3G 4G WIFI with an interference radius of up to 40 meters.

$659.43

$1089.43
Portable 2G 3G 4G cell phone jammer's built-in 4700mAh battery, equipped with a car charger, continuous working time of more than 1.5 hours, the maximum interference radius of 20 meters.

$308.89

$638.89
Cell phone jammers importance in life

As the threat to security personnel targeted by smart electronic devices grows, mobile phones and radio signals explode, jamming the purchase of equipment becomes important. Cell phone signal jammer are used situations that we need to be quiet or solemn like court, church,meeting room,school examination room. Schools can be installed using cell phone jammer diy to stop the practice.

Features of common 4g cell phone jammer

- Portability has become the most important feature for the convenience of use anywhere.

- The antenna design may shield more frequency ranges.

- All types of cellular signals are prohibited: CDMA/GSM, 3G, 4G, DCS/PHS.

- The interference radius is wide, and some interference devices even have adjustable function.

The smartphone seriously affected their life balance, affects health, also affects their work productivity. In some units, the boss installed a mobile jammer in the office to keep their phones from working properly,so that increases productivity.The mobile phone jammers are widely used in the office area.

Cellular phone signal jammer is an electronic interference device that blocks the transmission of signals between cellular phone and base station. By producing the same frequency as a mobile phone, the mobile phone signal jammer can strongly interfere with the communication between the caller and the receiver. It effectively blocks the transmission of signals from UMTS, 3G, CDMA, GSM and PHS networks. Thanks to the popularity of 4G signals, new interference devices can also block 4G and 4G LTE signals. The ability to block 4G signals is now one of the criteria for determining whether a scrambler device can be used for a variety of applications.

If you see a lot of people who don't have a sense of public civilization, I think you can buy the 8 Bands GSM 3G 4G Jammer GPS WiFi LoJack Blocker to stop their behavior.The portable WiFi jammers that can interfere with eight frequencies at once. Not only shielded the GSM 3G 4G 4G LTE, also jamming GPS/LoJack and WiFi. Before buying this powerful jammer, you need to learn more about it.




Articles on cell phone jammer blocker




> National important qualification examination uses phone signal jammer

> Market analysis report on global handset cellphone jammer

> Mobile phone jammers cut off signals during military operations

> Phone signal jammer keeps you away from the sound of the phone

> Keep healthy lifestyle with the cellphone signal jammer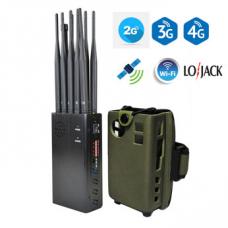 $599.49
$1198.98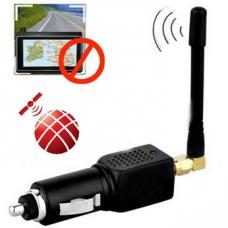 $69.99
$149.89
Cell phone jammer block all communication between phones by cutting off their radio transmissions and preventing them from connecting to the Internet. Simply turn it on, it will immediately start blocking the types of CDMA, GSM, DCS, and 3G 4G signals. All nearby phones will show "no service" and you can perform demonstrations, meetings, or other important activities without being interrupted by the sound of a bell or vibrator. When the scrambler is turned off, all phones will automatically restore their network connections.
Why do gas stations need cell phone jammer?
When the phone's battery starts up and the bell rings, a satisfying energy spark that causes a slight spark may cause a fire. Gas stations have a clear ban on cell phones, and petrol stations have a clear ban on phone calls. Gas station equipment is controlled by computer, mobile phone signal affects the normal operation of equipment, causes the banning of measurement, more important is that mobile phone in the process of call can present a spark, vulnerable to fire, gas station blasting. Installing cellphone interceptors at gas stations could prevent some tragedies. Therefore, it is not only prohibited to use mobile phones in the station, but also best not to use mobile phones within two or three meters around the gas station.