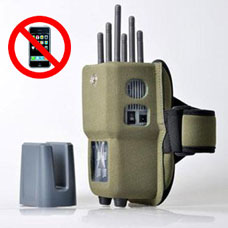 Portable Hidden Antenna GSM 3G 4G GPS Blocker or WiFi Jammer
6 antenna hidden handheld phone scrambler blocks all mobile phone signal and wifi GPS. The jamming radius up 20 meters. It is easier to carry your arms with you. It can be used at home and outdoors. Whether it's your adventure or a self-driving car trip, it's a great way to protect your untracked equipment.
Technical Specs:
Weight: 900g
Size: 230 x 90 x 50mm
Warranty:One Year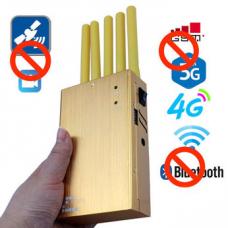 Portable Mobile Phone GSM 3G 4G GPS WIFI Wireless Video Jammers
5 Bands handheld multifunctional cell phone jammers block mobile phone, GPS signal and wifi signal, jamming radius up to 20 meters, with multiple signal combination types.The features of portability and versatility make it very popular.
Technical Specs:
Weight:0.5kg
Size:115x70x25mm
Warranty:One Year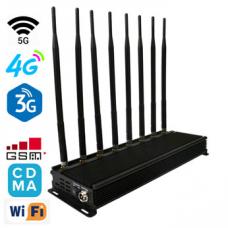 Newest desktop powerful GSM 3G 4G 5G phone frequency jammer
The latest 5G signal jammers are available in the jammer-buy store. There are many types of interference signal frequencies, including almost all mobile phone signals, gsm 3g 4g cdma wifi, etc., with a maximum radius of 40 meters.
Technical Specs:
Weight:3500g
Size:385 x 135 x 50mm
Warranty:One Year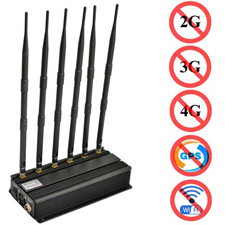 Desktop GSM 3G 4G Jammer Block GPS WiFi UHF VHF Signal Adjustable
6 bands desktop adjustable high power jammer can jamming basic mobile phone GSM 3G signal,other signal frequency blocked depends on your choice. Such as WIFI GPS UHF VHF. Strong jamming signal type and blocking range make it very popular for large places. Jamming radius up 50 meters.
Technical Specs:
Weight: 2500g
Size:305 x 140 x 51mm
Warranty:One Year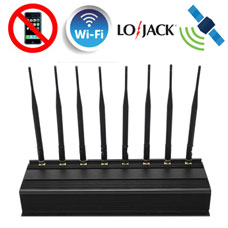 High power Jammer Signal Frequencies Jamming Device Adjustable
The 8 band high power jammer jamming radius up to 50 meters. You can use a variety of masking signal combination types. Powerful functions and adjustable features, widely used in schools, offices, libraries and other large places.
Technical Specs:
Weight:3.2kg
Size:140x51x350 mm
Warranty:One Year
APPLICATIONS

In recent years, wireless technology and GPS technology has been developing rapidly, a variety of electronic products are adopting the advanced technology equipment, such as the most popular watch phone, smart phone, no one technology, artificial intelligence and so on all is the best embodiment of the technology. These technologies and devices have greatly facilitated our lives, but the problems have also come with threats to our privacy security. For example, GPS tracking, mobile security, wireless network monitoring, eavesdropping, etc. In order to better protect privacy and personal safety, using signal jammer has become their primary measure.

1. Prison use jammers

The prison uses jammers to cut off prisoners' contact with the outside world, and drone jammers prevent criminals from using drones to transport drugs to prison.

2. Used in the classroom

Jammer used in the classroom can well solve the problem of students playing mobile phone, in the important exam time, can also prevent students from using mobile phones and other electronic equipment to cheat behavior, maintain the fair principle.

3. Used in the library

The library should be quiet, where we study, to prevent some people from calling loudly and installing mobile jammers.

4. Used for the car

The car use a GPS jammer to avoid GPS positioning and to prevent being tracked.Protect your privacy and your whereabouts.

5. Used for church

Churches are sacred places where noisy noise is not allowed, and signal jammers are used to ensure that the ringtone is not disturbed.