Powerful prison jammers jamming with the GSM/3G/4G/wifi/GPS
A broad prison is the place where all prisoners are held, including prisons, detention centers, and detention centers. The prison in a narrow sense refers to a criminal sentenced to death with a suspended sentence of two years for execution, life imprisonment or fixed-term imprisonment, in accordance with the provisions of the criminal law and criminal procedure law. The principle of combining punishment with reform, education and labor, and transforming criminals into law-abiding citizens. Since the prison is help criminals to correct errors, turn over a new leaf, then the prison jammers are important equipment to maintain order in the prison, it can interfere with the prison cell phone signal and wifi signals, don't let the criminals have a communication with the outside world, ensure the safety of the prison.This provides you with a variety of high power prison jammers, designed primarily for desktop design, and multi-antennas are their common features.
The powerful rf jammer of the antenna can interfere with a wide range of interference frequencies. In the case of a disturbance radius of 50 to 70 meters.

$748.75

$1560.59
As a high power signal jammers with 6 antennas, it supports wide jamming frequencies including phone signals,WIFI,GPS,UHF,VHF and LoJack with jamming radius up to 120 meters.

$2750.34
The 16-band signal jammer is very powerful and is a high power jammer because it can almost interfere with the 100-2700 MHz signal, which means that if any of these signals are used, any tool that uses these signals will be intercepted.

$1048.25

$1869.56
This all-in-one adjustable high power frequency jammer can block all cell phone frequencies and the wireless spying probe in the examination.It can be used for large occasions such as courts, schools, prisons, etc.

$1306.39
In some important organs units, they are particularly high confidentiality and security requirements, in order to make better information about these places and safety protection, signal jammers in these places use is necessary. In prison, in order to ensure the security and order of the prison, the prison uses a powerful prison jammers to jam cell phone signals, wifi signals and GPS signals.

With the development of jammers, many countries in the world are now using signal jammers in prisons, which are extremely important protection measures for their management and security. Recently, some news reports say that drones have been used to transport drugs to prison. We know that unmanned aerial vehicles (uavs) is very popular, they can replace people to cannot reach area, collect data for people, because the small unmanned aerial vehicle (uav) etc, people is not easy to find it, so is the use of unmanned aerial vehicle (uav) deliver drugs to the behavior of the prison. Therefore, in order to prevent similar incidents, in some prisons, the drone jammer are also used.

What are the characteristics of the prison jammer?

Considering the wide range of prison, so often used in prison jammers is designed for desktop, multiple antennas, can interfere with a variety of complex signal, high power output, etc. Are their characteristics.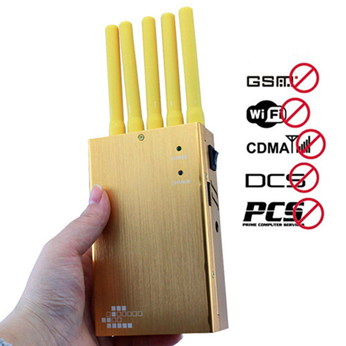 $259.89
$339.99