Phone shielded scrambler desktop
Do you know the possible problems with using mobile phones? For example, harassing the phone affects your life, and your child's excessive use of the cell phone has an impact on their own body and learning.Yes, the usage rate of mobile phones has reached more than 90% in modern society. Almost everyone has their own mobile phones. Children do not have mobile phones, but they use their parents' mobile phones to watch children's movies or play games. Mobile games, they do not have self-protection consciousness, they are easy to indulge in them, do not push forward, and even make them from a very young age suffer from myopia.

Although mobile phones have provided people with many conveniences and caused some related problems at the same time, more and more places have begun to prohibit the use of mobile phones, especially at the national level of important scientific research and protection units, banned because of mobile phones. Data loss caused by use. Not only that, the company's offices and even homes have installed cell phone jammer in succession, prohibiting mobile phones may cause problems.

There is a problem here. Why is desk cell phone shielded jammer more and more important? Why is the area of use gradually increasing? Desktop phone shielded scrambler is popular, and it has great benefits for many mobile phones such as homes and offices. The desktop design is also easy to carry. It is installed in a corner of the room and it does not take up. Your space is also easily hidden from being known by others.

The operator's communication frequency range is assigned by the state and any unauthorized occupation, interference, or violation of the use of magnetic tape is not in accordance with the regulations. Schools may use the mobile jammer during college exams. Government agencies usually use jammers for meetings in conference rooms. Its power is small and has no effect on intimacy. You must register with the radio management board, and you can use it if you want to block the signal after permission is granted. Otherwise you will violate the radio regulations. Can we just stop the target population without affecting the population? Is this technically possible?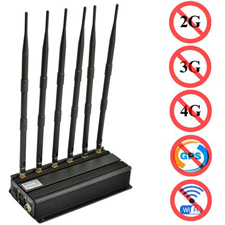 This 6 antenna desktop signal jammer scrambling gsm 3g basic mobile phone signal, with 4g, gps wifi signal and UHF VHF band signal type selection, desktop design makes it have more powerful interference capacity, maximum interference radius up to 50 meters It is used in many large occasions where it is necessary to prohibit mobile phones. Schools, offices, families, churches, courts, etc. are the most common places.
$448.49
$946.89