U disk gps perturbator
Use legal problems about signal jammers, there are many online, although have different comments, the main point about use jammer is illegal, but there is no specific provision can use place, so there have been many online sales store signal interference. In general, the jammer device is not allowed. GPS jammer should be used to protect our whereabouts, not to be tracked by criminals and to our lives, and even to life.

The wide use of GPS trackers and the availability of easy access to the Internet, so we need to use a portable GPS scrambler to avoid being tracked in our outdoor environment.Although the law does not allow, for the sake of our safety, we can use this kind of easy to carry and hidden u disk GPS perturbator, shape it with our daily use of U disk, insert it in our work cell phone charging socket. This extremely subtle feature makes it difficult to be found by others, although it is small, but it does not affect its interference performance.

Yes, as you can see, it's very small. If you are afraid of being followed, and worry about being limited by legal issues, so this small usb GPS block machine is your best choice, don't need any charge, need to insert the block signal on your phone. If you encounter a check, you can go down.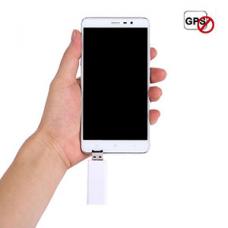 The portable mini usb gps jammer looks just like a usb disk.it can block the gps signals let you avoid gps signal tracking. And it is very convenience because it can be used by your mobile phone,computer,car charger,ect usb interface.You can put it in your pocket when you don't need it to protect your whereabouts.Weight 200g,jamming radius up 5 meters.
$49.99
$97.69