Handheld mini gsm disruptor
GSM network popularity all over the world, not just in the early days, the GSM network is still covered a major share of the market, perhaps in recent years, the decline in its utilization, is better than it of 3 g and 4 g network. GSM can become a universal network signal type in the world, and naturally has its own unique features. GSM network is difficult to be disturbed.GSM is often used in mobile phone services of voice calls and text messages, with the deepening of the research on its, GSM module also gradually put into use in other areas, such as security systems, car alarm system, entrance guard system, etc.
As the GSM jammer manufacturing and sales store, we are concerned about the GSM to use in the field of mobile phones, we know that the earliest in the cell phone use is a GSM network, namely we often say 2 g network. As mentioned above, GSM is difficult to be interfered, so can it not be interfered? Of course not, it is also need certain signal frequencies, as long as similar radio waves in view of the corresponding frequency band, make use of GSM network equipment can not correctly distinguish, so it can achieve the goal of interference.
GSM signal disruptor are currently used to ban mobile phones and are widely used in schools, prisons and courts.Yes, if you need to ban cell phones in one place, like your family, your office, or your car, or even the outside world, you can choose a small handheld disrupter.Here you can buy high quality and competitive price jamming devices.
GSM signal scrambler related tags
Desktop GSM 3G 4G Jammer Block GPS WiFi Lojack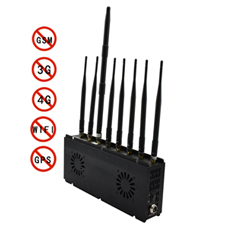 This table 8 antenna jammer used the unique design, the two cooling fans to ensure good heat dissipation effect, effective jamming GPS GSM 3G 4G WIFI LOJACK signal frequency, interference radius can be up to 30 meters, it is suitable for family, office, school, church, courts, prisons, conference rooms and other places.
$380.89$799.65
High Power WIFI GPS GSM 3G 4G Cell Jammer Adjustable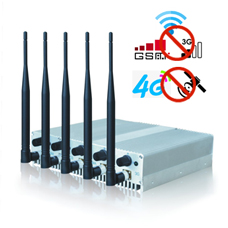 The desktop high power jammers took 5 antenna design, aluminum material ensures good heat dissipation effect, on the use of different places, have different interference frequency band combination type, interference radius can be up to 30 meters, the modelling of elegant and powerful features make it very popular in the market, if you need a desktop interference device, it is a good choice.
$328.89$690.99
Handheld GSM 3G Jammer GPS WIFI Remote 433 315 868MHz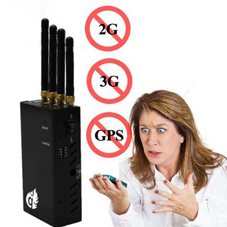 Black casing and 4 handheld antenna design means that it is more easy to hide, a variety of jamming signal type combination to provide for your needs can be satisfied, in which GSM + 3G + GPS and GSM + 3G + WIFI is a customer to buy the most combination type, the combination of all types of interference radius can be up to 15 m, more convenient car charger you anywhere in the outdoor use.
$185.14$319.69