The prospects and applications of enterprise drones
With the rapid development of information technology, future drones developments and applications will become more extensive. the uav technology has undergone tremendous changes. From RPV to uavs, drone technology has reached a new level. In the future, uavs and human-computer interaction will develop together, and finally we look forward to unmanned aerial vehicles. In recent years, the use of drones has increased dramatically in local wars, which has led to the worldwide development of unmanned aerial vehicles.
uav is not strange to us, we often see news reports of uav, the news has positive and negative, negative is the use of drones pics of other people's privacy, but recently appeared more awesome news, said to be using uav to transport drugs, prison and small uav has not been found in a timely manner. For the correct use of uav, uav is can give our lives a great role in promoting, I believe that with the development of science and technology, the application field of unmanned aerial vehicle also will be more and more widely. Of course, we can use the drone signal jammer to protect our domain from the fact that the drone disruptor ACTS against our privacy. So let's look at the future of drones and the market for drones.
Drones have been successful at the consumer side, especially in photography and video. In fact, drones are being used in agriculture, energy, insurance, mining and more businesses to gain more benefits.
According to a new report from Counterpoint Research, the drone market will grow by 45% in 2018, mainly from the fast-growing business sector.
Enterprise uav for growth because the hardware price decline and the related technological innovation, such as autonomous flight mode, a key returns and first - person - the view function, make uav operation more simple and easy to use.
In the case of drone makers, dji, from shenzhen, China, dominates, with nearly two-thirds of the market. This forces other vendors to focus on providing software solutions and services, which can prompt rapid advances in related technologies.
For enterprise-level uav current application scenario, Counterpoint Research analyst Anshika Jain, uses the example of agriculture, said by unmanned aerial vehicle monitoring the change of the crop, determine the optimal level of irrigation, pesticides and fertilisers, compared with the traditional method, save time and cost, and can improve yields, the farmers' income. In addition, several companies are testing drones to transport supplies to remote or hard-to-reach areas. This would be a good alternative to conventional overland or earthquake disasters.
At present, enterprise drones are mainly used in media and entertainment, agriculture and construction. Anshika Jain predicts an explosion in emerging industries such as insurance and telecoms in the future. Counterpoint predicts, enterprise uav hardware market in 2020 will reach about $700 million in sales, and the compound annual growth rate of 33% for growth, but the price will be equal to twice the consumer uav.
In recent years, with the emergence of new technologies, small drones have emerged as a phenomenon. Nowadays, people can see all kinds of minicomputers, such as insect-like drones like mosquitoes and butterflies. Why develop such a drone? Such drones may be useful for civilian purposes, but they are mainly used in military applications in the "swarm" battle of the special forces.
Comments
Posted by Vgnegje 2018-06-24
Very good article sharing, the future development trend of unmanned aerial vehicles have detailed sharing and unique insights.
Recommended Daily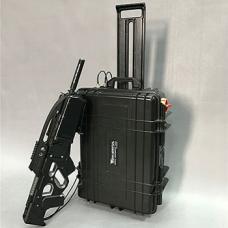 The anti drone jammer is a highly mobile operating system for intercepting drones. It is designed with a trolley and is easy to carry. Its powerful functions can be used for military interference and police field sports, personal outdoor patrols, public safety or emergencies.

$13833.99