Make a simple cell phone jammer
Now many people use cell phone jammer are mostly from the online purchase, there are many people are buying material make it yourself, for their beginning ability and what they need combination of signal spectrum can be arbitrary collocation. But more than that, the technical staff at www.jammer-buy.com had a private custom made to get the type of shield signal they needed.As is known to all, the current mobile phone signal is almost everywhere, all the electrical equipment are surrounded by it, without the use of mobile phones that surrounds the signal interference with other electrical equipment is negligible.How to make a simple cell phone jammer? This is because there is no data exchange between cell phone and base station when no cell phone is used, and there can be no signal of mutation. The interference of electrical equipment is almost zero. But in the use of mobile phones have the mobile phone and base station data exchange, also creates a random mutations in the signal, make form a dynamic electromagnetic field around electrical equipment, the dynamic electromagnetic signals is induced the disturbance signal of the mutation, easy to cause dysfunction of electrical equipment.No doubt from the mobile phone signal shielding device is also a kind of electromagnetic signals, and the electromagnetic signals always without any equipment and data communication, also will never be able to form mutation signal, in other words the signal are in a state of relative rest forever. The use of cell phone signal blockers turns random mutation signals into relatively static signals. Thus, the interference of the mobile phone to other electrical equipment is solved.
The material is the signal generator, rf broadband power amplifier and matching transmitting antenna. Mobile phone signal shielding principle is in the mobile communication signals with same frequency spectrum on emission interference, enabling itself cannot receive the real data signals (packet loss is often say) signal is blocked. The frequency of the problem is that cell phones currently in use is about 800 MHZ to 2 GHZ, the frequencies of high-power transmitter homemade difficulty is bigger, and this band is not spare spectrum signal on the spectrum law is limited so homemade estimate is not very easy. The simplest way is to buy a signal generator and then add a broadband amplifiers and antenna, and shielding according to mobile phone operators can find corresponding frequencies do high-power launch (if can add the white noise in the carrier modulation is better).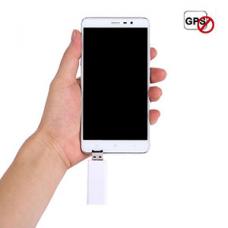 Mini Portable USB Interface Jammer GPS Signal Blocker Easy To Hidden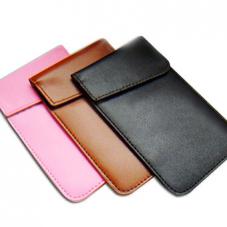 Cell Phone Rest Bag Portable Tool Can Block Mobile Phone Signals Protect Your Phone.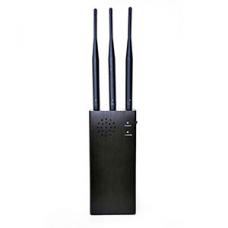 Powerful Portable Remote Control Radio Frequency Jammer 315 433 868MHz Blocker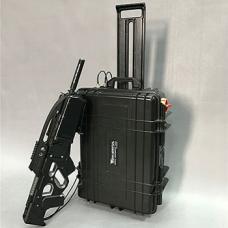 Trolley Box High Power UAV Counter System With Directional Antenna Like Suitcase